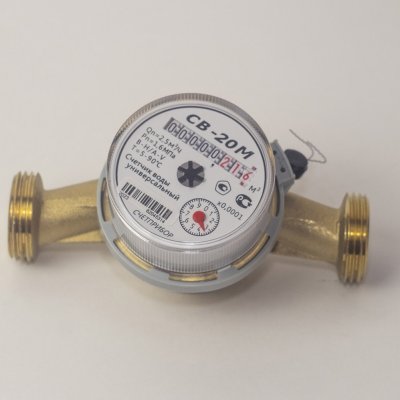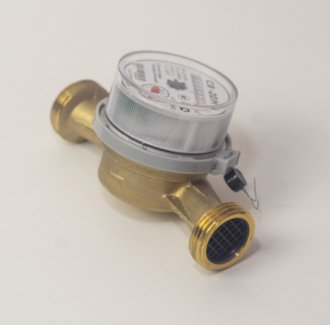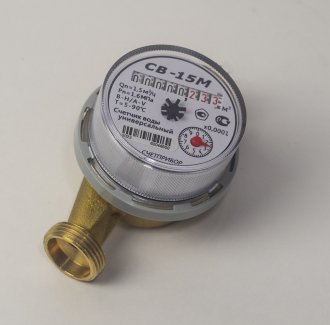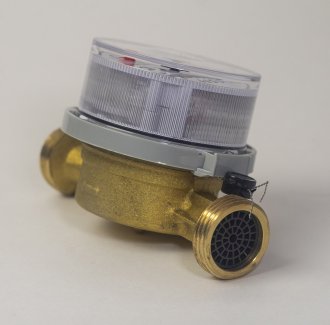 Universal domestic water meters SV
Water meter
Registration number 72093-18 in the Federal Information Fund for Ensuring the Uniformity of Measurements.
Intended use: universal water meters "Schetpribor" SV are designed to measure the volume of cold and hot drinking water according to SanPiN 2.1.4.1074-01 and hot water according to SanPiN 2.1.4.2496-09 in pipelines of cold and hot water supply systems.
Size: ID 15, ID 20
The meter consists of a case with a filter; a counting mechanism with a mechanical or electronic indicator device; a plastic locking sealing ring.
The principle of the meter's operation is to measure the number of revolutions of the impeller rotating under the action of the water flow. The number of revolutions of the impeller is proportional to the volume of water flowing through the meter.
the indicator device of the metering mechanism, depending on its type, features: - eight wheels and one pointer, for meters with a mechanical indicator device. - nine character spaces for meters with an electronic indicator device. The water volume readings in m3 are taken from the indicator device.
The pointer rotates clockwise.
The meter's indicator can be rotated around its axis at an angle of at least 270 ° to be installed in a position convenient for reading.
Remote transmission of water consumption data can be performed using a pulse output, or a radio module of an unlicensed frequency range. The computing system ensures the display of data in the user's personal account.
Inside diameter (ID), mm

15/20

Minimum volume flow rate Qmin, m3/h

0.030/0.050

Maximum volume flow rate Qmin, m3/h

3/5

Weight, kg, not exceeding

0.4/0.6
Find out the price
Looking for help?
Leave your contact details and
we will contact you
FIND OUT THE PRICE
Leave your contact details and we will contact you to clarify details about products, within 2 hours